Adobe Acrobat Pro DC For Teams
Team Licensing Subscription New (monthly)
Value Incentive Plan
Win
Multi-North American Language
1 user
level 4 (100+)
Mac
You will get:
Versatility: Adobe Acrobat Pro DC for Teams allows users to create, edit, and manage PDF documents, making it a versatile tool for businesses.
Electronic signatures: The software allows for the use of electronic signatures, which can be a big time-saver for businesses.
OCR (Optical Character Recognition): The OCR feature allows users to convert scanned documents into searchable, editable text, making it easier to manage and work with large volumes of documents.
Security: Adobe Acrobat Pro DC for Teams offers various security features, such as password protection and digital signatures, to help protect sensitive information.
Cloud-based: The software is cloud-based, allowing for easy collaboration and file sharing among team members.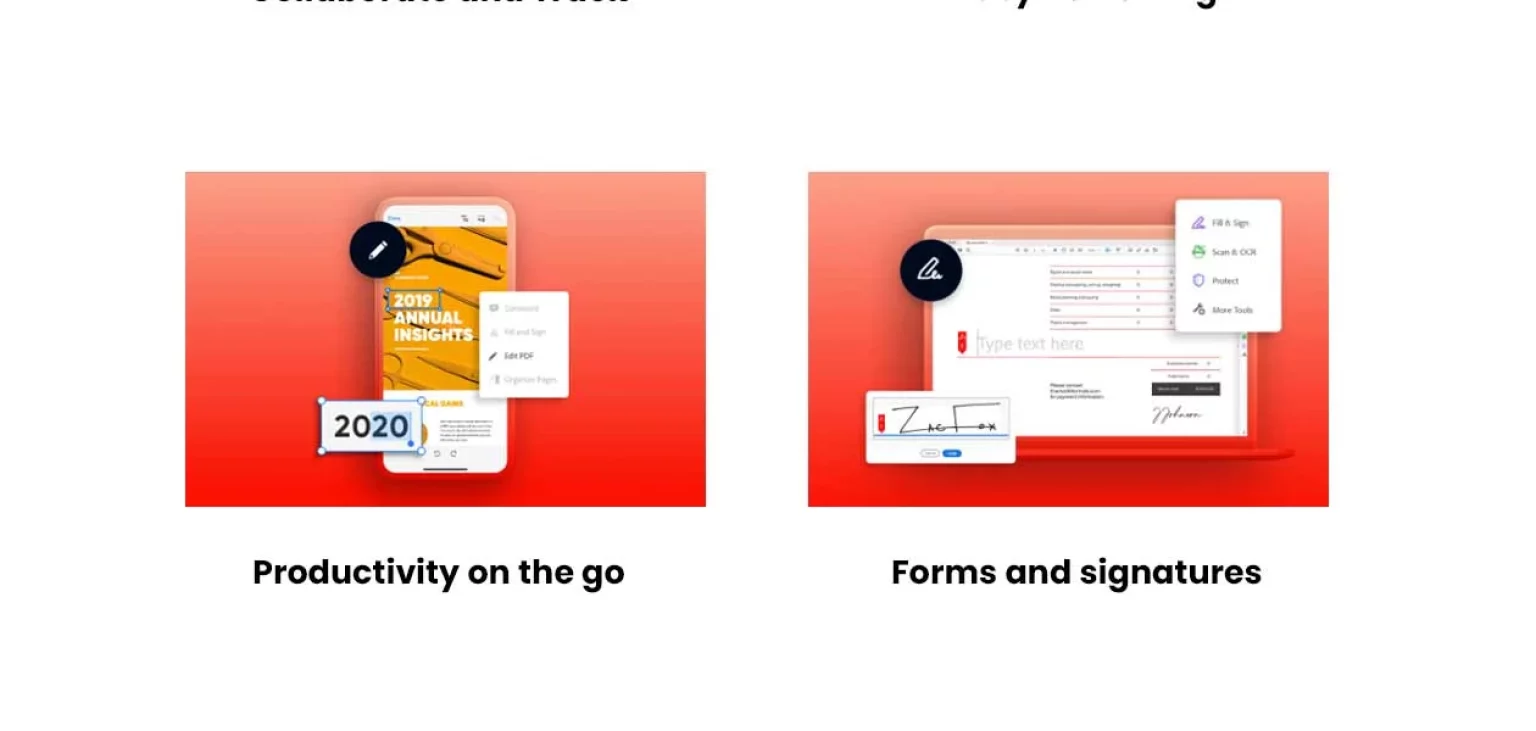 The best PDF editing & management tools are now the most connected.
Acrobat Pro DC with Adobe Document Cloud services is the complete PDF solution for multidevice digital world. It connects you to your documents, collaborate with team, and favorite PDF tools. It's there when you need and where you need it and makes working together easy on any device.
Adobe Acrobat Pro DC. It's how the world gets work done.
More than five million companies around the world rely on Adobe Acrobat Pro DC to create and edit PDFs, convert PDFs to Microsoft Office formats, and so much more. When you need to collaborate with people in remote locations, fill and sign a form or get one signed, trust Adobe Acrobat DC to help you make it happen. From anywhere.
Create PDFs

Share and sign

Create PDFs
All-new Adobe Acrobat DC with Adobe Document Cloud services is the complete PDF solution for today's mobile, connected world. Adobe Acrobat desktop publishing software is now combined with the new Acrobat DC mobile app and Document Cloud services which helps you meet end-user demand for mobile solutions. let your organization build smarter document workflows, and ensure document security across all the devices.
Meet user demand for mobile solutions: With Adobe Acrobat Pro DC, your users can stay connected and productive with the new Adobe Acrobat DC mobile app. PDFs opened recently on either their computer or mobile device are instantly accessible, so it become easy to swipe through files, add comments, fill and sign forms, and share files with others from anywhere.
Protect sensitive information in documents: Help secure company information by setting default document security properties for your company or by creating automated Actions to define a set of security tasks that users can easily apply to their PDF files.
Storng security: Help mitigate PDF-based cyber attacks with multiple built-in defenses and advanced security techniques, like sandboxing.
Streamline deployment: Simplify deployment and updates with support for Microsoft SCCM/SCUP and Apple Remote Desktop, and get free tools from Adobe such as the Adobe Customization Wizard to speed up installation and configuration.

Integrate with and extend Microsoft investments: Take advantage of support for Microsoft Windows 7 and 8. Give your users direct access to Adobe Acrobat functionality from the Microsoft Office ribbon. Open, edit, and save PDF files from Microsoft Office 365 and SharePoint libraries.

1 review for
Adobe Acrobat Pro DC For Teams

Adobe Acrobat Pro DC For Teams