Sleek, modern interface
Improved touch capabilities
Enhanced virtual desktops
Improved performance and speed
Built-in security features
Seamless integration with Microsoft 365
Improved gaming features
Improved accessibility features
Enhanced search capabilities
Advanced task management options
Add to wishlist
Added to wishlist
Removed from wishlist
0
You will get:
Beautiful, more consistent design
Great window layout options
Strong video gaming updates
Performance-improving features
Runs Android apps
BUY AND DOWNLOAD WINDOWS 11 FOR PROFESSIONALS TO ENJOY:
DESIGN FOR THE WORLD OF HYBRID WORK, WINDOW 11 CAN HELP YOU WORK MORE SIMPLY AND SEAMLSSLY FROM ANYWHERE.
This version is designed for PCs that need a new license for Windows and meet the minimum system requirements (https://pisoftware.in/product/windows-11-pro/) for Windows 11. If your PC is running Windows 10 and you can Buy Windows 11 pro and also  Update to install the free upgrade to Windows 11, you will not be able to install this version of Windows 11.
A simple, powerful UX helps improve productivity and focus.

New features enable you to make the most of available desktop space.

App compatibility and cloud management make adoption easy.

A Zero Trust-ready OS helps protect data and access wherever business takes you.
WHY SHOP SOFTWARE FROM PI SOFTWARE STORE
From instant contect us our expert support, we're here to help you do more with best-in-class resources
Instant software downloads
Install most apps and software, like Microsoft 365, Windows, and Xbox games, via digital download.
Free virtual training sessions
Improve your skills across core apps and software with free online classes and training led by Microsoft Store associates.
From personal shopping assistance to help with an existing order, we're here for you by video, text-based chat, or phone.
Powerful, out-of-the-box protection, including phishing safeguards, passwordless security, and app control, led to a 58% drop in security incidents with Windows 11 Pro devices.

Get powerful protection on hybrid work devices with TPM 2.0 silicon-assisted security and data and identity safeguards.
Secure Boot and Trusted Boot work to prevent malware and corrupted components from loading when a Windows 11 Pro-enabled device turns on. Together, they help ensure booting up your device is safe and secure.
Hardware isolation, encryption, and malware protection
Streamline management of your hybrid workplace and protect your data with more control over apps and access from anywhere.
Virtualization-based security (VBS) creates and isolates a secure virtual mode that can host solutions like Hypervisor-Enforced Code Integrity (HVCI) to strengthen code integrity policy enforcement.
Defend against evolving threats
Shield your valuable data and enhance hybrid work security with advanced features enabling a reported 2.8 times fewer instances of identity theft in businesses surveyed
Enhanced phishing protection with Microsoft Defender
SmartScreen warns users when they enter their Microsoft credentials into a malicious website.
Presence sensors work with Windows Hello to automatically sign you in to your device when you approach and lock when you leave, helping keep you more secure, save battery power, and get back to work quickly.
Modern security management
Streamline security management across diverse locations and extend security to the cloud. Deploy confidently, knowing that 99.6% of applications are compatible with Windows 11.
Windows Hello for Business
Lose the password and strengthen security with Windows Hello for Business, which enables strong PIN or biometric authentication.
BitLocker Drive Encryption integrates with Windows 11 Pro and helps protect against data theft or exposure from lost or stolen computers.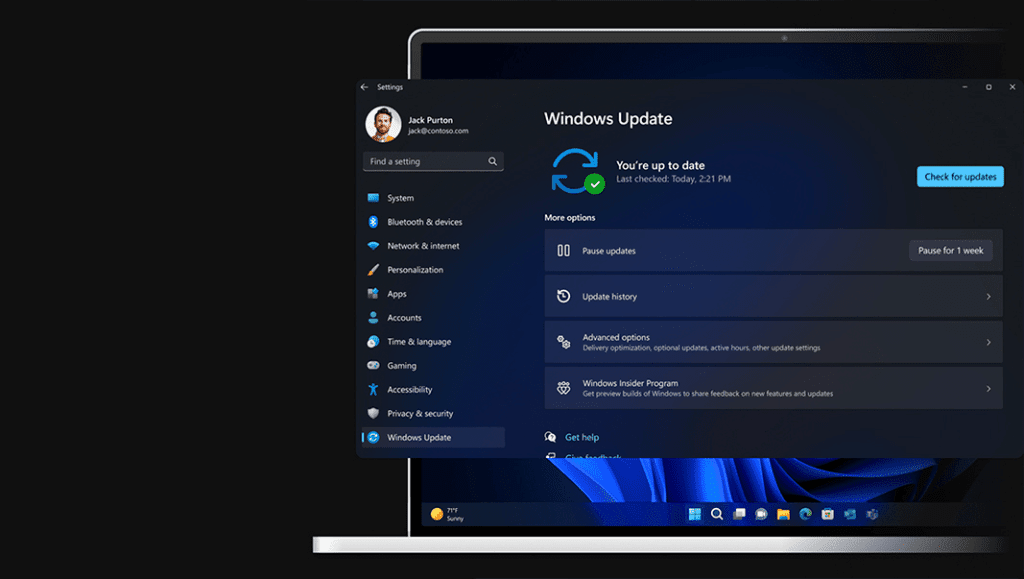 Empower employees across your organization with a suitable device for each work style. Hardware and software deliver innovative experiences, robust security, and outstanding performance.

Deploy and update Windows 11 with familiar tools like Windows Update for business.
Quickly deploy and remotely manage devices with cloud-based tools like Microsoft Endpoint Manager, Azure Active Directory,5, and Windows Autopilot.
1 review for
Windows 11 pro