As an AI language model, I can list popular AutoCAD features that CAD managers appreciate. Here are eight great AutoCAD features that are frequently mentioned:
Customizable User Interface: AutoCAD's user interface can be customized to match the needs of each user or company. This feature allows users to create their menus, toolbars, and commands to streamline their workflow.
Command Line: AutoCAD's command line interface is still one of the most powerful features CAD managers appreciate. This feature lets users quickly access and execute commands without navigating menus or toolbars.
Dynamic Blocks: Dynamic blocks allow CAD managers to create parametric objects that can be quickly modified and reused in their designs. It can use Dynamic partnerships to make doors, windows, furniture, and other easily modified things.
Sheet Sets: AutoCAD's sheet set manager allows CAD managers to create and manage a set of drawings for a specific project. This feature will enable users to easily navigate between pictures, update titles and sheets, and manage sheet revisions.

Collaboration Tools: AutoCAD allows users to collaborate on designs with other team members using cloud-based platforms such as Autodesk Drive or Autodesk A360. This feature makes it easy to share and review drawings with other stakeholders.

Layer Management: AutoCAD's layer management tools are essential for CAD managers to organize their designs. Layers allow users to group similar objects and control their visibility, color, and line type.

Xref Management:  AutoCAD's Xref feature allows CAD managers to reference external drawings in their designs. This feature will enable users to manage large projects more efficiently by breaking them into smaller, more manageable files.
Customizable Keyboard Shortcuts: AutoCAD allows users to create keyboard shortcuts for commonly used commands. This feature can save CAD managers significant time and improve their productivity.

These are just a few of the many AutoCAD features that CAD managers appreciate. AutoCAD continues to evolve and improve, providing CAD managers with new and powerful tools to improve their workflow and productivity.
Access to Specialized Toolsets
Access to specialized toolsets is another great AutoCAD feature that CAD managers appreciate. AutoCAD license provides access to tools that cater to specific industries and design disciplines. For example, the Architecture toolset includes specialized features for architectural design, such as walls, doors, windows, and stairs. Similarly, the Electrical toolset includes specialized tools for electrical design, such as electrical symbols and circuits.
With access to specialized toolsets, CAD managers can enhance productivity, simplify workflow, and produce higher-quality designs. These toolsets also provide a standardized platform for different designers within the same industry, making it easier for teams to work together and communicate effectively.
New Installation and Deployment Experience
The new installation and deployment experience is another excellent AutoCAD feature that CAD managers appreciate. AutoCAD provides a simplified and streamlined installation process, allowing CAD managers to quickly and easily deploy AutoCAD to multiple workstations.
The new installation and deployment experience also includes improved options for customization, allowing CAD managers to configure AutoCAD settings according to their specific needs. This feature reduces the time and effort required to set up and manage multiple installations of AutoCAD, making it easier for CAD managers to maintain their software environment.
Simple Software Licensing – No License Server Necessary
Yes, simple software licensing is another great AutoCAD feature that CAD managers appreciate.
AutoCAD uses a simple licensing model that does not require a license server, making it easy for CAD managers to manage licenses for multiple workstations.
This licensing model allows users to activate their software on a specific computer without connecting to a central server. This feature reduces the administrative overhead required to manage licenses, making it easier for CAD managers to deploy and maintain AutoCAD installations. Additionally, AutoCAD offers flexible licensing options, such as network licenses, subscription-based licensing, and perpetual licensing, allowing CAD managers to choose the model that best fits their needs.
Manage and Enforce CAD Standards
The ability to manage and enforce CAD standards is another great AutoCAD feature that CAD managers appreciate. AutoCAD provides tools and utilities to help CAD managers maintain consistent CAD standards across their organization.
For example, AutoCAD allows users to create and manage custom line types, hatch patterns, text styles, and dimension styles. In addition, these standards can be stored in a central location and shared among team members, ensuring consistency and reducing errors.
AutoCAD also includes features such as the Standards Checker tool, which can use to check drawings for compliance with CAD standards. This feature allows CAD managers to identify and correct errors and inconsistencies before they become problematic.
Managing and enforcing CAD standards helps CAD managers maintain consistency, improve quality, and reduce the time and effort required for manual checks and corrections.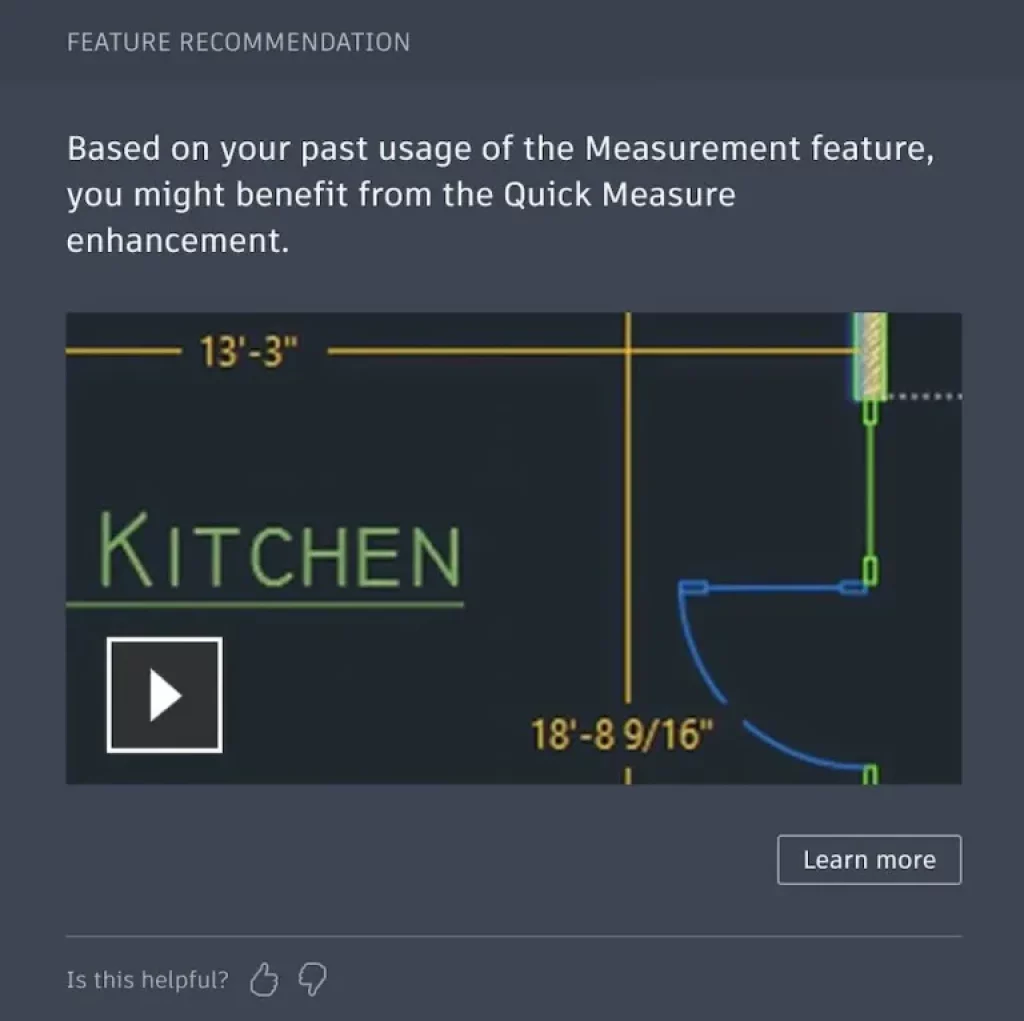 How many times have you helped a team member with something in AutoCAD only to share an unexpected tip or trick with them too? Unfortunately, it's a common occurrence when helping members of my team. While I love opportunities to help our team improve, my analytical self can't help but think about the last time spent with the less efficient approach.
What if I could have identified the inefficiency and helped the user sooner?
That's precisely what My Insights inside AutoCAD 2022.1+ offer to you and your team. Leveraging an advisory engine built into the software, it analyzes how an individual uses the software and then provides personalized insights identifying opportunities to become more proficient in AutoCAD. You can think of it as a dynamic AutoCAD Tips & Tricks presentation tailored to how you work with and use AutoCAD each day.
In our emerging post-pandemic world, improving collaboration is a constant priority for project teams. However, assuming the entire project team will be co-located throughout the design process is unsafe. Furthermore, there needs to be a greater assurance that the whole project team will work on the project simultaneously.
Today, collaboration needs are similar but more demanding than ever. We need more than just the ability to add a comment or send a drawing.
It's no surprise that AutoCAD today integrates with Autodesk's cloud collaboration tools, such as Autodesk Docs and BIM 360. But what about the many other cloud storage options?
From Dropbox and OneDrive to Box and Google Drive, AutoCAD offers the flexibility to work with your organization's best cloud storage solution.
Today, many projects use AutoCAD and one or more additional tools, from Revit to Inventor. Interoperability is crucial in this case. Design teams add value to their clients when designing, not playing data interoperability roulette with them.
When AutoCAD or AutoCAD LT is opened, TrustedDWG validates the compatibility and integrity of the DWG. It is a crucial feature of AutoCAD and AutoCAD LT.
Furthermore, it helps you ensure that the DWG files you create can be unlocked and leveraged as expected by the individuals you send them to.
In addition to TrustedDWG, AutoCAD Software Price includes many interoperability inputs, including the ability to reference BIM Coordination Models within a DWG file.
Lastly, the Autodesk Community has been a valuable resource for me and my career development. In other words, the Autodesk Community is a collection of resources that help users with Autodesk software learn, ask questions, and connect with other professionals.
My favorite community resources are the Autodesk Forums, Autodesk Group Network, and Autodesk University.
Get answers to your questions about everything from AutoCAD to technology (CAD) management in the Autodesk Forums. Among the experts, you will find members of the Autodesk Expert Elite program, which recognizes top product experts worldwide.
In addition to connecting with experts worldwide, you can communicate with people near you. For example, you can find local (and virtual) user groups on a wide range of Autodesk software (including AutoCAD) through the Autodesk Group Network.
Autodesk University is Autodesk's premier user conference, offering a great chance to learn from leading industry speakers and connect with other professionals. Although the pandemic has prevented it from being held in person during the last few years, AU has gone virtual, making all of its sessions available year-round on its website. Of course, the experience of attending an in-person seminar is similar; however, this accessible digital conference allows us to receive similar benefits at any time.
Streamline Drawing Review Process with Autodesk's Shared Views Feature

Shared Views is a feature within Autodesk software that offers an efficient alternative to traditional sharing and obtaining feedback on drawing sheets. Instead of creating PDFs or sending emails, CAD managers can easily send a drawing to clients or team members through Shared Views. This feature allows them to designate a person's access level to the picture, such as the ability to view only or make comments and markups. With Shared Views, CAD managers can quickly obtain feedback and make necessary changes to improve their projects. This tool can help streamline the review process, saving time and increasing productivity.

Take your creative ideas to the next level with Autodesk Software Price – the leading design software for architects, engineers, and other professionals. Get a hassle-free buying experience with an official 1 to 3-year license from PI Software and unlock the full power of Autocad today! Get ready to create stunning designs with an easy-to-use UI and advanced features to help you advance in your profession